Why Should I Get an Advanced Home Automation System?
Recent advances in technology have made homes a more comfortable place to live in. Internet-enabled appliances and energy-efficient "smart" electronics made home operations seamless and efficient. Technology continues to grow today. And soon "smart" homes with an advanced home automation system will soon be the kind of home everyone wants to have.
If you're transitioning from a traditional home to a smart home, there are many reasons why you should get an advanced home automation system.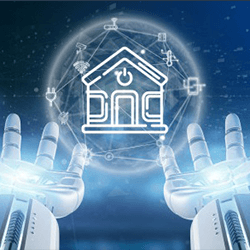 Below are 5 reasons:
Comfort
One of the biggest things an advanced automation brings to the home is comfort. You can switch lights on and off, command your coffee maker to make coffee, and bring down the blinds all with a push of a button from your laptop or another compatible gadget.
Having an advanced home automation system makes all this possible. It brings together all the internet-enabled appliances in your home so you can control it from your smartphone or laptop. Without a system, you will have to control each appliance from their individual apps which can be inconvenient.
Security
Security is another benefit an advanced home automation system gives to smart home owners. Because the home automation system tracks all your smart devices, it becomes easier to manage your home during an emergency.
Smart home systems can pick up data from sensors around your home. It will notify you if there is something wrong. It could also trigger other smart devices connected to the system, like a burglar alarm or fire alarm.
Remote Access
The beauty of having an advanced home automation system is that you can access the system even if you are not home. This gives you full control of your home even when you are out of the country or in the office.
Home Value
Because of the large number of smart appliances coming out in the market right now, home automation is slowly growing in popularity. Little by little, people are adding internet-enabled appliances into their homes. This results in people looking for a system that will bring all these smart appliances together.
That's why homes with an advanced home automation system have an added value. People will pay a higher amount for a house that is already installed with a home automation system than to buy a house without one.
Savings
Home automation is not just about making home operation easier and more convenient; it's also making efficient use of things like water and electricity.
The purpose of a smart home automation system is to make sure all your smart appliances are working. That means making sure the lights are off when it's day. And the aircon is blowing the right amount of cold air to make the room cool during summer.
This helps cut down on electricity usage which can spike up if your appliances are not managed. You can also check the operations of your smart appliances through the automation system. So you can easily adjust the settings to further optimize your home automation system.
Control
Lastly, home automation systems help you keep control of your home. No matter where you are or what you are doing, you have full control over your home. You don't need to worry about whether you have locked the door on your way out or closed the light in the living room.
Having an advanced home automation system will keep you updated about the status of your home. You can lock your door or turn off your lights from your office without having to go back home.
How to Find the Best Home Automation System for You
Finding the best home automation system for your home can be difficult, especially if you're not familiar with IT or how home automation works. Knowing which automation system is compatible with your smart appliance is also important.
WHICHHOMEAUTOMATION.COM gives you in-depth reviews and comparative analysis of different advanced home automation systems. They have reviews on home automation systems like Vera, Smart Things, and Simplisafe among others.
On top of that, they provide reviews on individual appliances that form part of the advanced home automation system. You'll find in-depth reviews about smart lights, motion detectors, smoke detectors, and indoor surveillance cameras. Get your review now!
Awareness about Advanced home automation system is useful?