How to Set up an Automated Home Defense System
In the United States, about 4,800 burglaries happen daily. Most of these burglaries happen when homeowners are at work or in school. Home security is a big concern for many homeowners. Because break-ins are a frequent occurrence throughout the country, they have the right to be concerned for their home and valuable properties. Having an automated home defense system can deter burglars and catch them in the act.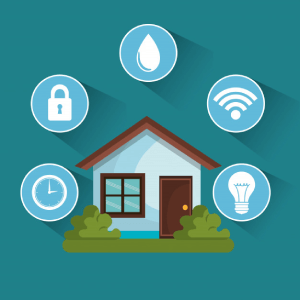 Here's how you can set up automated home defense system:
1. Have motion activated flood lights around your home.
One of the first things you should set up as a part of your automated home defense system is perimeter lights. Lighting helps scare away burglars because it exposes them to the homeowners and to the public.
Having motion activated flood lights is a great way to set up a strong perimeter defense against burglars. The heavy lighting will draw attention to whoever is on the spotlight and could even momentarily blind the culprit. And because the light is motion activated, you don't have to worry about your electricity bill spiking up.
2. Install outdoor cameras with motion detector.
An outdoor camera is a great tool against burglars and should be part of your automated home defense system if you have high-value items in your home. Not only will it expose burglars, but it will also help police officers identify the suspect and get your item back before it is sold.
Outdoor cameras should be put around the perimeter of the home. As well as in areas where there is a clear view of the front door, garage, and back door. These areas are vulnerable entry points for burglars and should always be secured and monitored.
3. Install window and door sensors.
In a 2012 FBI crime report, it stated that approximately 34% of burglars broke in through the front door. It's scary to think that burglars can easily enter your home through the front door and steal all your things. Door and window sensors help prevent this from happening.
Door and window sensors alert homeowners when someone opens a door or window in their house. If you buy more expensive sensors for your automated home defense system, it may also notify authorities of the incident. Many door and window sensors run on batteries and may need to be replaced often. Homeowners should be responsible enough to have them changed frequently for better security.
4. Have a smart security system in place.
Having an automated home defense system is useless if they can't notify you when there's an emergency in your home, especially if you're on a vacation. So don't skip out on the smart security system.
Smart security systems connect to your home security devices and the internet. When your automated home defense system picks something up, the smart security system will notify you by sending a notification to your smartphone. Doors and sensors are usually part of a smart security system. And many outdoor cameras and motion sensors can easily connect to a smart security system.
5. Don't set up traps.
If you're setting up an automated home defense system, don't set up booby traps like the ones in the "Home Alone" movies. Setting up traps like a sentry turret or a home security paintball gun can earn you a ticket to jail. Many states have laws against setting up booby traps around homes as it could harm or injure first responders.
Instead, put objects like hedges and bushes on your lawn to slow down burglars of force them to create lots of noise. Having a pet dog that barks loudly can also deter burglars and create lots of attention in the neighborhood.
WhichHomeAutomation.com
Setting up an automated home defense system takes a lot of time and effort. But it's worth it if you really want to secure your home from bad people.
However, an automated home defense system becomes useless if it can't protect your home when you're away. That's why you will need a home automation system that is compatible with your automated home defense system. WhichHomeAutomation.com can help you find that.
WhichHomeAutomation.com provides objective reviews on different best home automation systems available in the market. Including compatibility with home security devices like cameras and motion detectors. They engage with manufacturers, provide information on the manufacturer's tech support staff, and re-evaluate reviews during system updates.
There's also an F.A.Q section on their page that can help you start transforming your home into a "smart" home.
Want to set up your automated home defense system now? Visit www.whichhomeautomation.com today and get a detailed review of the home automation system that's right for you!
Related Resources