You don't need to be a DJ, Singer, Movie Star, or Comic to enjoy entertainment. Entertainment is enjoyed by many people from virtually all walks of life. Needless to mention that we need entertainment in our homes to keep us going most times. And as you know, entertainment doesn't come from the sky but the devices we buy. Have you ever thought of how you can get the most out of your entertainment devices? It begins with getting smart entertainment devices.
You already know a smart home is one that is automated to remotely and conveniently control your appliances from anywhere, amongst other sophisticated features. Home entertainment devices can be configured with your smart home system, making them easy to control via your smartphone. Whether you want to lie in bed or sit on your couch to control your entire entertainment system, or you want to get them working through voice command, you need smart home devices.
As with other products, you want to get the best entertainment devices that can give you value for your money. So, are you ready to purchase entertainment devices? We've written this article to point you to the best smart home devices you can consider. Let's dive in!
Best Smart Home Entertainment Devices to Consider
Bose SoundTouch –10 Wireless Music System
If you're looking to fit sound into all your rooms, the Bose SoundTouch works best. It comes with ten wireless speakers that can fit perfectly into any of your rooms. It also has excellent sound—not so loud and not low. It is wireless, and it works with your home Wi-Fi or Bluetooth. With this device, you can stream as many songs as you want from internet radio stations, music services, or your music library. Bose SoundTouch is one of the best smart home entertainment devices you can trust; it's available at prices and has also earned numerous positive feedbacks from existing users.
Logitech Harmony Home Hub
Do you want to control your entertainment devices through your smartphone? The Logitech Harmony Home Hub is what you need! This hub allows you to control up to 8 devices—both entertainment and non-entertainment devices. Logitech Harmony Home Hub features an app that is compatible with iOS and Android devices, tablet inclusive. This allows you to turn on your TV, control the volume, pause, play, and other functions. It also works with Amazon's Alexa, which means you can also control compatible devices via voice command. Sounds good, right? It is undoubtedly an outstanding device for your smart home entertainment.
Amazon Echo
Amazon Echo is packed with exciting features that let you connect and control all your entertainment devices through its built-in app. It also comes with a voice control function—you can play songs from Amazon Music, Spotify, SiriusXM, Pandora, and more. The enhanced version now features new premium speakers. Apart from controlling your entertainment devices with this hub, you can also control other devices in your home, such as lighting, switches, heaters, and other things that require plug-ins.
Samsung HT-H5500W Home Theater System
Looking to get a smart home theater system? You should consider going for this smart product from Samsung. The home theater system works with Wi-Fi, Bluetooth, and other smart wireless devices. You also connect it to your hub to control via your smartphone or tablet. The system can stream music from streaming platforms like—HBO, Netflix, and others.
It features five speakers and a subwoofer that creates the sounds that keep you relaxed and leaves you wanting more.
Roomie Remote
This is another smart home device you need for your smart home. It lets you control your home theater and other sound systems through its app. The app also supports other devices—lighting, thermostats, etc. The app is compatible with iOS devices, so if you have an iPhone or iPad, you want to get the Roomie Remote as your hub. Controlling your devices via this app is effortless. It features a user-friendly interface, and you won't need any extra lessons to utilize all its functions.
JmGO G1 LED Projector Media Player and Smart Home Theater
Apart from its optimal performance as a projector and smart home theater, JmGO G1 features a unique design that fits lots of home decor. You can playback video footage from cameras, laptops, smartphones, and more from this projector. Also, it comes with a built-in TV tuner and speakers.
Sonos Playbar Soundbar
This is a smart wireless soundbar for TV, music, and more. The Playbar also works with WI-FI as a modular speaker system. Users can add a subwoofer for enhanced sound. It is space-saving, as it can be mounted on the wall, and still works excellently. Sonos Playbar Soundbar is compatible with various hubs. That is, you can control it via hub apps installed on your smartphones or tablets.
DKnight Magicbox II Bluetooth 4.0 Ultra-Portable Wireless Speaker
If you're a fan of wireless speakers, you may find this wireless speaker interesting. DKnight Magicbox features Bluetooth functionality that lets users play music and also receive calls from their smartphones. It's lightweight, which means you can easily carry it along with you, and the signals can cover a long-range. It also features a built-in 2000mA rechargeable battery that can last for up to 10 hours' playtime.
LG Electronics 65-Inch 4K Ultra HD Curved Smart OLED TV
This is a smart TV that allows you to connect to your favorite streaming apps. You would certainly love the display of this TV. The pictures are stunning and also support Dolby Vision content. It is also compatible with smart hubs, so you can connect to your smart hub and control it via your smartphone app.
Wrap Up
Smart home entertainment devices present you with a modern and convenient way of enjoying music, watching movies, etc. You can decide to schedule your TV to turn on at a specified time or have your rooms equipped with smart speakers that are controllable via your smartphone.
While there are a lot of smart home entertainment devices on the market, we have highlighted some of the best smart home devices that can work correctly with your smart home system.
Looking to learn more about smart home entertainment devices? Read our
blog
for more ideas.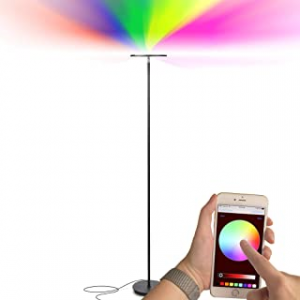 Related Resources: