A home security system is no longer a significant expense or inflexible long-term commitment. Today's home security concerns and technological advances have led to a manageable and convenient timely Bluetooth-based home security system.
Wireless technology in this mobile home security has made it easier for homeowners to access information on the go. In addition, you can add all your family members and allocate them access codes in the system as an added benefit.
A Bluetooth based home security system consists of a control panel and various sensors to monitor doors, windows, motion detectors, smoke detectors, and the exterior. A modern home security Bluetooth system is ideal for people away from home most of the time or for those who want better home security.
What is a Bluetooth-based home security system?
A Bluetooth-based home security system is a modernized way of keeping your home safe. It differs from the conventional home security system, which requires you to connect your phone to the security system to access and operate it. Bluetooth technology is a short-range wireless communication technology that allows users to connect to several innovative devices in their homes. As a result, it can help you with your home security and make your life easier.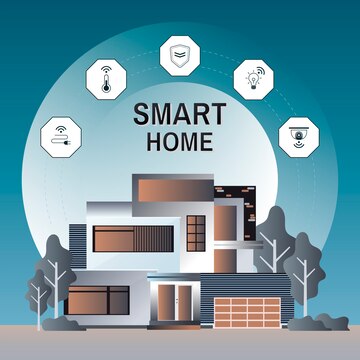 How does home automation work?
Wireless home alarm systems use Bluetooth technology to communicate with the central station or other devices in the same network. The wireless system is one of the most important things you need to know when installing your Bluetooth system.
The main reason why wireless systems are more popular than wired ones is because of the ease of installation and operation. For example, when installing a wired system, you must ensure that all wires are correctly installed and secured to prevent loose ends or exposed wires. On the other hand, this doesn't happen with wireless systems since everything is already designed.
Wireless alarm systems also allow for more flexibility regarding where you want to place it, whether indoors or outdoors.
Benefits of Using Bluetooth based Home Security System
Here are some of the benefits of the Bluetooth home security system:
Easily accessible devices
Nowadays, almost everyone uses smart devices, such as laptops and smartphones. With these devices, you can access your home security system with ease wherever you are and at any time. A Bluetooth home security system allows you to monitor your house even when you are away, as long as you can access a stable internet connection to access the system through your mobile or laptop device.
Wireless
Conventional alarm systems require wires to transmit signals from the sensors to the control panel. Unfortunately, a burglar can cut these wires, rendering the alarm system useless. A Bluetooth home monitoring system uses wireless signals and is difficult to disable.
Easy Installation
Installing a bluetooth home-based security system is easy as it does not require any wiring, so you don't need to drill walls and doors. Instead, their sensors are stuck easily on walls with the help of adhesive tape.
Installing a home security system does not require more time or money. Many systems come with everything that you need for installation and setup. If you do not know how to install the system yourself, many companies will offer installation services for an additional fee.
Convenient connections
A bluetooth home security system is convenient and easy to use.
With this home automation system, you can connect your smartphone or tablet to your security system easily through Bluetooth. This security system works like other smart home devices and can be connected to an app on your smartphone or tablet.
Affordability
The cost of home security systems can vary depending on the company you purchase your system from and the extra features you want to incorporate in your security system. For example, you can purchase a basic system for a few hundred dollars or pay several thousand dollars for a more advanced system with more features and better coverage.
The cost of a Bluetooth security system is reasonable compared to some other home automation systems. So if you want an affordable way to secure your home, a Bluetooth home security system may be a good option for you.
Integration with other devices
You can integrate a Bluetooth security system with other smart devices in your home. For example, you can connect the alarm to your lights, so they turn on automatically when the alarm goes off.
Wrap Up
When you consider the benefit of remote access and control that these systems offer, you will find why they are so appealing. With the right home security system and equipment, you can have the peace of mind that comes with knowing your home is protected.
The bluetooth based home security system introduces a new comfort level to the users' lives. It is a more secure and convenient wireless security system. As with any home security system, a wireless alarm is designed to protect your property and loved ones. The benefits of this type of security are that it is easy to install and affordable.
Best Way to Make your Home Smart
Related Source