Automatic Home Light Control System
Ever wondered how hard it would be to live in a house with no lights? Everything becomes difficult to do in the evening. And your mood would just drop with how gloomy your house is. Having an efficient lighting system makes a house more comfortable and livable. Having an automatic home light control system makes it even better.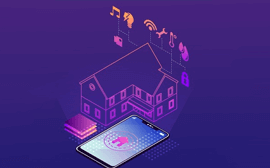 5 Benefits of Automatic Light Control System for Home
Here are five benefits of having an automatic light control system for home:
1. Cost-efficient
Forgetting to switch off the lights in the morning happens to everyone at least once in their life. And let's face it, leaving your lights open through an entire afternoon can take a toll on your electricity bill. Having an automatic home light control system prevents this from happening.
Because your automatic home light control system is connected to the internet, it knows when to switch the lights off to save energy. And if your automatic home light control system syncs with other smart devices in your home, it can recognize when and where it is best to turn the lights on.
2. Scheduled on and off
If you will notice, there is often a natural schedule when you turn the lights on or off. Because of this schedule, you feel something is different if you don't turn the lights on or off at a certain time.
But when you're busy, you don't have the time to turn the lights on or off. And the sudden difference in mood could break your focus. This is where installing an automatic home light control system becomes handy. All you need to do is schedule when the lights turn on and off and the system does the rest. You don't need to break your focus just because the lights haven't been turned on.
3. Remote function
Switching the lights on or off can be quite a chore since you need to walk to the light switch before you can turn the lights. Of course, walking is a healthy exercise, but when light switches are too far apart from each other, it can become inconvenient.
Having an automatic home light control system will let you turn the lights on and off with just a tap of a button. You can also choose to turn on all the lights or just select lights in an area. Some residential lighting control systems could even let you control outdoor lighting.
4. Allows brightness adjustment
One of the best things about lighting is that it can create a mood and ambiance. These help people sleep better, be more productive, and be more focused. Mood and ambiance can be changed by adjusting the brightness of the lights.
With a traditional light switch, light brightness remains constant and can't be adjusted. Installing a dimmer, however, can mean having to do some electrical rewiring. With an automatic home light control system and some smart light bulbs, you can adjust light brightness without having to rewire your electrical system.
5. Can change colors
Aside from brightness, color also affects mood and ambiance. Different areas of the house often have different light colors. Kitchens usually have a strong white light installed so that everything is easier to see and can make people more active while cooking. While bedrooms have low daylight to create a relaxing mood. Some prefer unusual colors like orange or purple for their rooms.
Stocking up on different colored light bulbs is costly and unnecessary. If you have an automatic home light control system and a smart light bulb, you can easily change the color of your lights without having to change the lightbulb. Some smart light bulbs even have a dedicated app, so you can just connect to it through your phone and change the color from there.
WhichHomeAutomation.com - Automatic Lights for Home
Having full control of your home's lighting is one of the features of a smart home. Today, there are many automatic home light control systems available on the market. But with so many options available, it's difficult to pick the right one for your smart home ideas. And buying the wrong one can be very costly. WhichHomeAutomation.com can help you find the right light control system for you.
WhichHomeAutomation.com offers in-depth reviews about different best home automation systems. They compare pros and cons and provide you with a list of smart devices different home automation systems are compatible with. They give you everything you need to make an informed decision before buying.
In addition, their committed F.A.Q page gives helpful data about home automation. Those thinking around upgrading their homes will find this page very insightful.
If you're excited to know what automatic home light control system to get for your home, visit www.whichhomeautomation.com now!
Related Source
Application of Home Automation System