SimpliSafe Reviews on Home Automation Systems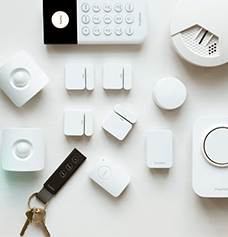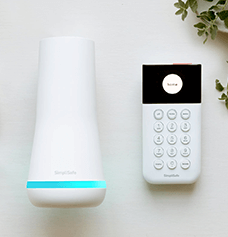 PROS / Inexpensive hardware with reasonable monthly monitoring fees. The system is expandable and customizable. Monitoring contracts are not needed. Battery backup and Cellular connectivity. Easy, quick installation without the need for drilling or wiring.
CONS / Still no camera and does not integrate with third-party surveillance cameras or other smart home devices. Bare-bones mobile app. Clunky-looking hardware. Online Dashboard does not log you out after inactivity.
VERDICT / You will find good use in installing the easy-to-use and versatile DIY SimpliSafe Home Security System if you want to monitor and secure your home from afar without spending a bundle.
SimpliSafe is a home security company that produces and sells self-installed security systems capable of connecting to a central monitoring center. The New SimpliSafe Home Security System is available with an all-new safeguard and is five times faster and 50% louder.
Product Knowledge
SimpliSafe is a DIY smart security system that protects your home from burglars and natural disasters like floods and fires.
The Haven package comes with 14 hardware components - wireless keypad, base station, two motion sensors, four door/window entry sensors, keychain remote, 105-decibel siren, panic button, water and freeze sensors, smoke and carbon monoxide detectors, and SimpliSafe yard sign and window decals.
The Foundation package (least expensive) is designed for small homes and only focuses on basic home security. This package includes a wireless keypad, the base station, one entry sensor, one motion sensor, and the yard sign and decals.
The Standard package includes 24/7 coverage. If a sensor is activated, SimpliSafe will go ahead and contact you. Police will be dispatched if you fail to provide a safe word that you designate during setup.
The Interactive package adds email and SMS alerts and uses the Online Dashboard for better control of the system. The app is used to arm and disarm the system. This plan can also set up Secret Alerts. It allows you to set up specific sensors in an Alert Only mode, without activating the alarms.
Working of SimpliSafe Home Security System
SimpliSafe can be easily armed and disarmed as it has only three modes – away mode, home mode, test mode.
Away mode activates both the motion sensors and the entry sensors.
Home mode activates the window and door sensors.
Test mode enables setting up the system and allowing you to periodically guarantee that all the sensors are in working order.
As you enter different modes, the base station clearly and loudly announces your actions. The volume can be adjusted in the app or on the keypad.
The SimpliSafe Home Security System works in the following manner:
When the alarm is armed, and a sensor is activated, the keypad will beep, and you have 30 seconds to enter your PIN.
If you fail to enter the PIN, the base station siren gets activated and sends an alert to SimpliSafe.
The company will now contact you via phone in order to ask you for the safe word that you chose during the setup process.
In case you fail to get the call, or fail to provide the safe word, the Emergency Dispatch Center will send the police. In the case of a smoke detector, firefighters will be dispatched.
SimpliSafe Home Security System's Online Dashboard
The monthly Interactive Plan allows you to use SimpliSafe's Online Dashboard or mobile app that help in controlling the system. With the online dashboard, you can view your System Event Log, assign up to four guest PINs, change your PIN, and choose an optional Duress PIN, that you can use when an intruder is forcing you to disable the alarm. After entering it, the alarm will stop sounding, but SimpliSafe will instantly send the police. This Dashboard allows you to tweak settings like entry and exit delay time, siren volume, and manage and rename sensors. However, in the latest system you can access most of these controls even on the keypad.
Overview
SimpliSafe home security systems are recognized for their flexibility, easy use, and price. The company provides you with affordable 24/7 monitoring plans that can be turned off at any time and you need not sign contracts to get this plan. If you plan to secure and monitor your home from afar without signing a long-term contract or spending a bundle, there is indeed a lot to like about the newly redesigned, easy-to-use, and useful DIY SimpliSafe Home Security System.
---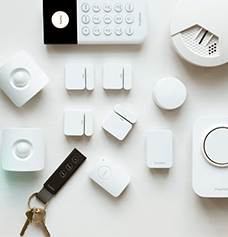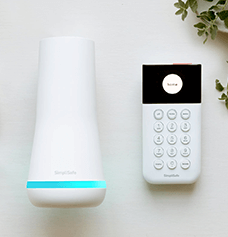 Get a smart solution for your question Which Home Automation is Best?
Top 4 Home Automation
No Records
SERVICES
eSimpliSafe offers a wide range of security system based on the requirements. To begin with, know what the SimpliSafe home security system is? Simply put, it helps personalize your home security system. It offers some robust Burglary Sensors, Hazard Sensors, and Optional Add-Ons.
Other significant offerings cover Build My System, The Haven, The Knox, The Hearth, The Essentials, The Foundation, Video Doorbell Pro, SimpliCam, and SimpliSafe Original. The users can choose from one of these bright options and stay better protected. For more information, I suggest you take a tour on their website. It will give an idea of what is the best option for your home.
SUPPORT
SimpliSafe professional monitoring service is active 24/7/365. You can also choose to call at the 1 800 number for assistance besides sending the email. For more details visit their official Contact Us page.