Why Finding the Best Affordable Smart Home Devices Important?
Upgrading your home into a "smart" home is a big investment. It requires many changes around your home's electrical system and buying different smart appliances. However, smart appliances are not cheap and could hurt your bank account if you're not careful. Luckily, there are ways to find affordable smart home devices that will fit your needs and not put a hole in your pockets.
Here is how you can find affordable smart home devices that will work best for you:
Search the Market

The most common way of finding affordable smart home devices is by going around the mall. And looking at the price tag of smart appliances available in stores. It's easy to compare prices this way and is easy to do for anyone. but there's a downside to it: you can't see where the smart device is compatible with or if the smart device works the way you want it.

Because smart home devices are still new in the market, there are several compatibility requirements for each device that you need to take note of. If many of the smart home devices you buy have compatibility issues with one another, it will be hard to sync them with each other or through an advanced home automation system.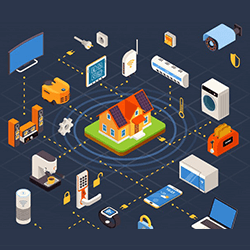 Ask in Forums

Another way you can find Affordable Smart Home Devices is by asking in forums dedicated to best home automation products. Doing this will give you a good insight into the experiences of smart home device users. You'll have a better understanding of how the device works and what are its pros and cons. This will help you make better purchasing decisions.

But like other methods, this has a downside to it. Despite the objective responses you get in the forums, it's difficult to compare prices. You'll also get recommendations from users, but you'll need to check if you can find them in your local store or buy them online.

Read Online Blogs

Reading online blogs is another way to find affordable home automation devices. It gives you the price and a review of the smart device all in one place. Sometimes they'll even add a link of where to buy the item online or the place where they bought their device. Reading blogs about smart home devices is a convenient way of finding if the smart device fits your needs or not.

But the downside of reading blogs is it is more subjective rather than objective. The review applies to the writer's experience with the device and may not highlight all the defects of the item. The review can also be less informative about the technical side of how the device works.

Find In-Depth Reviews by Experts

The best way to find affordable smart home devices is by looking for in-depth reviews by experts in smart technology. These reviews compare prices, features and functionality, and provides a thorough look at the flaws and benefits of the devices.

Expert reviews are objective, reviewing device usage in different environments. These reviews help give customers a detailed look at the device before buying it. This method is the best way to look for inexpensive smart home devices that fit your budget and addresses your needs. But expert reviews are hard to find, especially on the internet where so much information is available.
Why Finding the Best Affordable Smart Home Devices Important?
Many people are starting to move towards a smart home environment for security and convenience. But because of the high cost required to fully transition, others are looking for reasonable priced smart home devices they can buy little by little.
To lessen problems during the transition and hurting your bank account even more in the future, it's important to find the best method of finding affordable smart home devices. Getting smart home devices with affordable prices that sync well with one another and fit your home's needs is the best investment and the proper way to transition to a smart home living.
WHICHHOMEAUTOMATION.COM
WHICHHOMEAUTOMATION.com is a website that provides expert reviews on all kinds of home automation devices. They provide in-depth reviews on home automation systems and smart devices like indoor surveillance cameras, motion detectors, window and door sensors, and smart lights.
They also have an F.A.Q section that can help people transitioning towards a smart home better understand smart home devices and how they can transition properly. Overall, they're a one-stop website if you're looking for expert reviews on affordable smart home devices.
Need help in finding the best affordable smart home devices? Then visit www. whichhomeautomation.com today!
Related Resources
Advanced Home Automation System
Awareness about Affordable Smart Home Devices is useful?