Google has changed the way we do many things. For instance, did you know that you can operate your television using your voice?
We shall discuss how to turn your TV on with Google home. Google continues to evolve over the years.
Today, Google produces smart home products that work efficiently together.
About Google Home
One of their latest gadgets is Google Home, a series of smart speakers that Google developed under the wings of Google Nest brand.
These gadgets allow users to give voice commands to facilitate interaction with services through Google's virtual assistant, Google Assistant.
Both third party and in-house services are consolidated enabling users to: receive news updates via voice, regulate photos and videos playback, and listen to music.
Google Nest gadgets come with consolidated home automation support. This allows users to regulate smart home appliances using a voice command.
The inaugural Google Home gadget was first launched in November 201 in the United States.
Consecutive product releases took place across the world between 2017 and 2019.
Once you purchase Google smart speakers you can modify the Nest thermostat's temperature, stream shows on Chromecast, and regulate Nest security cameras using your voice.
How to Assess your Television for Consumer Electronics Control support
If you want to know how to connect Google Home mini to TV, you'll need a new age television that's compatible with consumer electronics control (CEC) and a Chromecast.
A Chromecast on its own can leverage the Consumer Electronics Control feature to turn on your television.
Once you enable the CEC feature on your TV, you can be able to regulate the television using different HDMI gadgets.
For example, your Blu-ray, PlayStation, or Xbox player can switch power on your television.
With Chromecast, you can be able to power your television and even swap input resources.
Remember, CEC can be defined by different names. If it's not indicated in your television's settings you can check for the following accepted trade names.
AOC: E-link

Hitachi: HDMI-CEC

Emerson: Fun-Link

LG: SimpLink

ITT: T-Link

Loewe: Digital Link or Digital Link Plus

Mitsubishi: NetCommand for HDMI or Realink for HDMI

Magnavox: Fun-Link

Panasonic: HDAVI Control, EZ-Sync or Viera Link

Onkyo: RIHD

Philips: EasyLink

Runco International: RuncoLink

Pioneer: Kuro Link

Samsung: Anynet+

Sony: BRAVIA Sync, BRAVIA Link, Control for HDMI

Toshiba: CE-Link or Regza Link

Sharp: Aquos Link

Sylvania: Fun-Link
How to turn on and off your TV with Google Home
Forget your remote and phone and make use of the Google Home speaker to power and control your television.
To turn your television on using Chromecast in the past you had to request Google home to stream certain videos or music.
For instance, you could say, "OK, Google, play cartoon videos on (the Chromecast name), or "OK, Google, play 'cooking videos' on [the Chromecast name]."
Do you want to know how to connect Google Home to TV without Chromecast?
You may need to specify the television you wish to power on or configure a default television in the Google Home app.
When your television is powered on, you can utilize Google Home to regulate the Chromecast using your voice.
Tell Google Home to play movies or TV shows on Netflix or YouTube, or stream music using Google Play Music.
You'll also be able to play, stop, pause, or control the volume using your voice.
Google Home comes with an extra new feature that will lower Chromecast volume automatically as you talk to Google Home.
You will also be able to turn off TV with Google Home by simply saying "OK, Google, power off [the Chromecast name]." or "OK, Google, power off my TV"
However, you should understand that not all CEC enabled televisions come with the power off feature.
Powering on a TV with Chromecast
While many modern televisions support HDMI-CEC, the older models may lack this feature. If your television comes with the CEC feature, you can proceed to power it with the following steps.
Launch the Settings menu on your TV and look for the CEC option

Activate the setting and connect Chromecast in an open HDMI port

Choose your favorite music or video to stream from your phone with your television off

Open the Cast button and select the Chromecast linked to your TV

Your TV should automatically power on and change to the Chromecast input source
There could be differences in the way the Chromecast should be powered.
Many televisions come with at least one USB port located at the back. However, sometimes they alternate power with the television.
Some USB ports won't remain powered when the TV is off. You can confirm this by checking the Chromecast's status light when the television is off.
If the status light is off, you will need to utilize an AC adapter to power the Chromecast externally. This will ensure that it's independently powered.
Finally
Google Home is not only functional, but it can also act as a centralized voice control hub for smart home and home entertainment gadgets.
It makes life convenient and manageable. Home automation is fast becoming popular in the digital world.
Are you looking for the best home automation system? Our recommended options are Vera and Ezlo.
Both systems are advanced and will offer you the convenience you need to control gadgets in your home.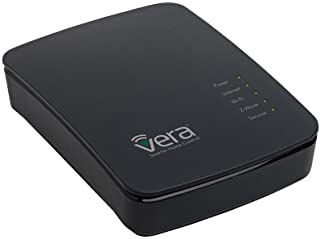 Related Resources: